Building an e-commerce website combined with a mobile app is a nowadays trend. To expand the business scale and increase the exit rate on a website, consumers will easily shop with a smartphone. So, do you have your own mobile app yet? If not, let's find out with PSA Solution - one of the most popular mobile app-builder today.
What is exactly a mobile app? Which types of mobile apps are there?
Definition
Mobile App is software designed specifically for mobile devices such as tablets or smartphones. Users can access and shop right on mobile devices with a few clicks.
Each App will be programmed in different languages. And still ensure good operation when running on many platforms such as iOS, Android, Windows... for the consumer experience.
Category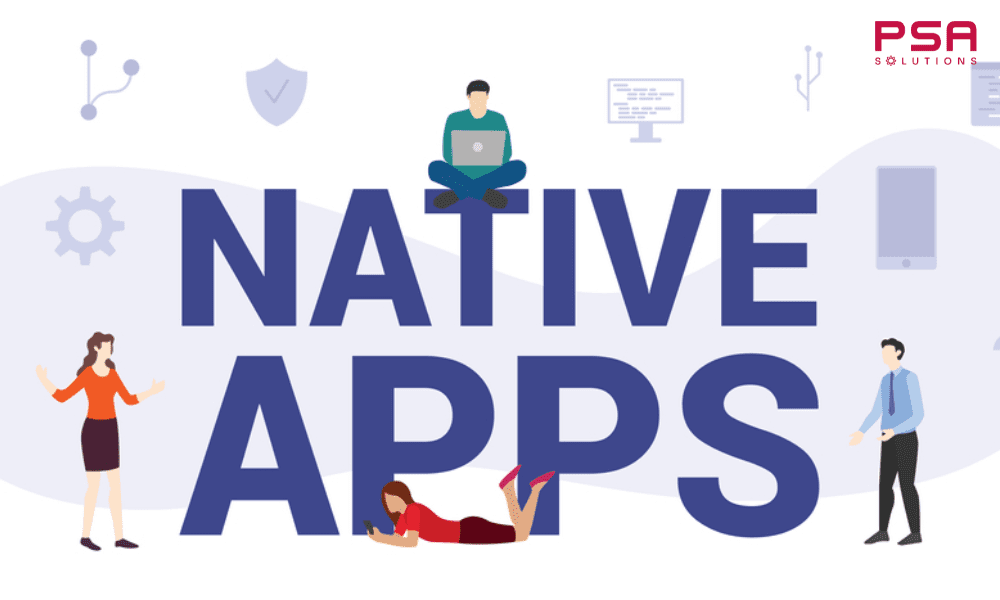 This kind of app uses the native language (exp: react-native) that is work smoothly on several types of operating systems (iOS, Android, Windows,...). Common native mobile apps are Games and Social Media Platforms,...
The hybrid mobile app combines outstanding features between Web App and a Native App. It is written in programming languages ​​such as CSS3, Javascript, or HTML5. Developed into a Native mobile app that makes it easy for users to download and access.
Why should businesses need a mobile app when doing business?
To develop an effective online business model, you need to know the following mobile app benefits:
Reach more customers than ever: This is a potential advertising and marketing method and directly affects customers. You can sell 24/7 and measure performance in the best way.
Multi-platform branding: building a brand image and reputation for businesses because smartphones are increasingly popular, so the visibility coverage is extremely large.
Increase customer experience: with the ease and convenience of accessing on the same mobile device, you can shop, which gives businesses the opportunity to reach customers.
>>Read more: Mobile app development: 3 things that businesses should about
Top 7 popular app-builder platforms
Do you want to make a mobile app but don't know how? PSA Solution will introduce you to the following app-builder
AppsGeyser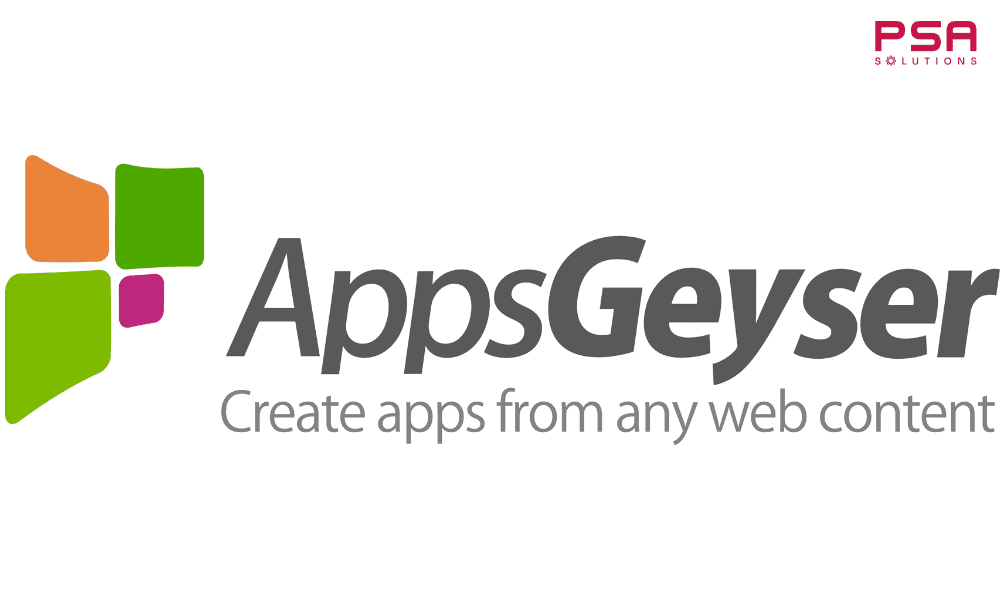 More than just 50+ different interface templates are designed, you can easily come up with ideas and build your own mobile app. The app also supports a preview feature to help you visualize how it works and fix errors (if any).
In addition, you will not pay any fees, or trial limits. Instead, the app will collect 50% of the money you make here.
Appery
The platform helps you to easily create apps on Android, iOS, and Windows. With Apache, you don't need to do code or install any extra features because it's exclusively used in the cloud.
It allows you to enable certain features and share for your business in real-time. The fee to pay for the app is about $180/month.
TeraApp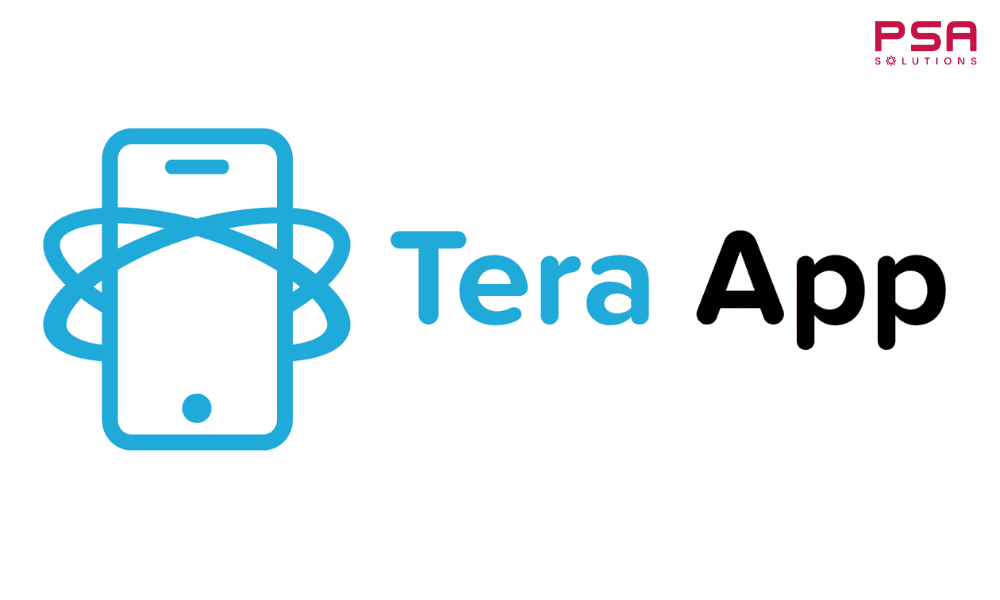 Đây được xem công cụ tạo App uy tín nhất Việt Nam, đông đảo doanh nghiệp và những bạn trẻ đều tìm đến sử dụng. Ưu điểm lớn nhất là cách tạo App vô cùng nhanh chóng với vài thao tác đơn giản là sở hữu riêng cho mình 1 App mobile vô cùng chất lượng.
This is considered the most prestigious mobile app-builder in Vietnam, many businesses and young people come to use it. The biggest advantage is creating app very quickly with a few simple steps.
Gamesalad
With the feature of publishing game applications on all operating systems iOS, Android, and macOS are handled quickly.
By drag and drop, you can build your own game application, but to maintain the features, you have to spend $299/year.
Swiftic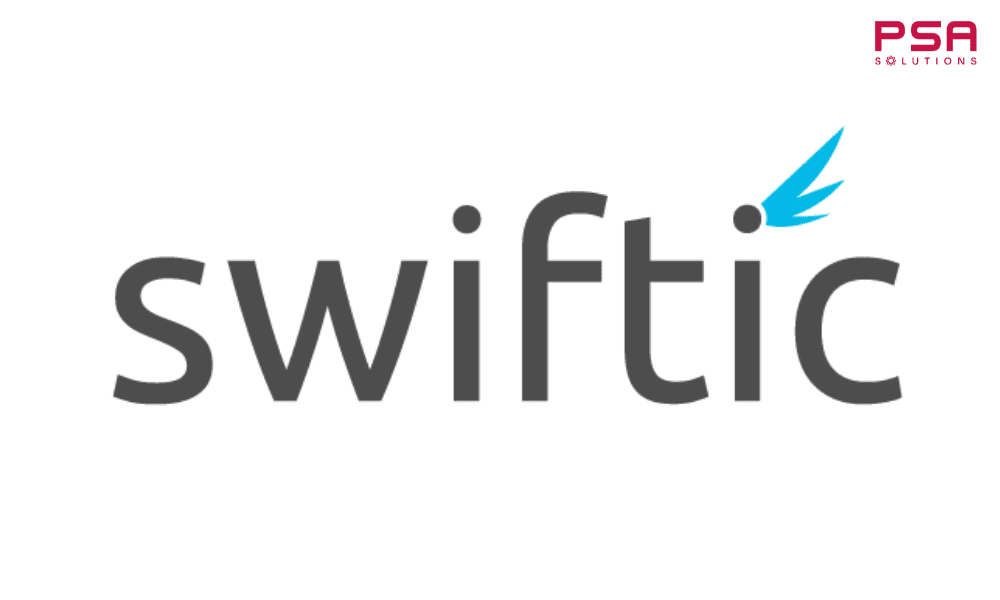 Swiftic is known for creating instant apps even if you are inexperienced. You just need to choose the type of application, the available theme template, and a few drag and drop operations to have a complete mobile App.
A standout feature in Swiftic that is loved by users is the ability to rate customers to track app performance. You can measure from there and customize the look and feel to best suit your needs. The cost to pay for Swiftic ranges from free to $39/month.
>>Related article: Things to consider before making a selling app
Appypie
Appypie is a completely free mobile app-builder platform. Allows users to create applications on iOS, Android or Windows operating systems. You can completely publish to Google Play or Itunes by dragging and dropping.
The application relies on HTML5 and other platforms to make up the complete version of the application. So the application has the ability to push notifications, use GPS location and make money from ads… With this Appypie, the price will be from free to paid $33/month.
NativeScript
One of the most popular mobile app-builder with developers. For those who are passionate about technology or make money making apps, this is the best choice for developing apps on iOS or Android.
This is a framework with built-in source code that supports user customization of built-in themes. This App helps users create templates with CSS and analyze and fix technical problems in the process.
Consider building a mobile app by using platforms or hire a professional developer?
You are wondering whether to use a free platform to create a mobile app or hire a programmer to do it. To get the most satisfactory answer, let PSA Solutions evaluate the pros and cons of each type.
Using mobile app-builder platforms
Pros
Save cost: the price of creating a mobile app with an app-builder platform is much cheaper than hiring a programmer. You can create your own App for free with a few simple drag-and-drop operations. Even no need to know coding, or professional design skills and it only takes a minimum of 15-30 minutes to set up a complete app.
The interface is extremely diverse and rich with dozens of different pre-designed themes. You are free to choose and customize certain features to your liking.
High efficiency: the features on the app are available. With the function of directly interacting with customers, linking social networks or sending discounts to customers.
Cons
Bored and duplicated: when too many people use it, you will encounter a case of duplicate design with other businesses. Customers will not be too impressed or easily confused with other Apps with similar functions.
It takes a lot of time to think: even if it's free to use with many different interfaces, it still takes a lot of time and effort to choose and customize to suit the needs of customers.
Hire a professional developer
Pros
Unique interface design: you will own a mobile app with features, images, and everything according to your desire. The branding image and brand point of sales will be more effective and in line with the needs of its customer's files.
Actively communicate and ensure work efficiency: hiring a professional programmer helps you to shorten the time and effort of building the App, solving problems or problems only related to technology.
Cons
The cost is quite expensive: The job requires a lot of expertise, so the fee to hire a programmer is quite high.
Thus, every choice has its two sides. Depending on the budget and usage needs of the business, to have a mobile app in accordance with user design trends you should have your own decision to be able to create a mobile app that makes a good impression on users or customers and create long-term sales effectiveness.
Notes when hiring a professional programming company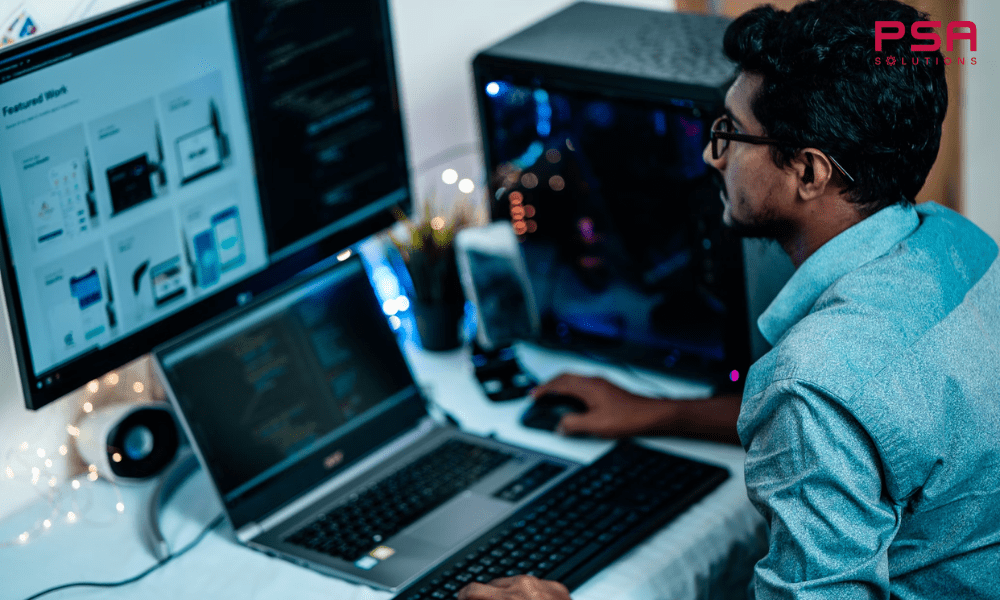 In order to own a mobile app designed for your business, you need to know the following information to ensure work efficiency:
Security risk: handing over your business data to another party is very dangerous. Therefore, you should choose a reputable partner with a deep understanding of the field for long-term exchange and cooperation.
Make sure the goals are set: when hiring a programming company, you need to be transparent and the list of goals is set up in advance so that both parties understand what they will need to do and know the progress of the work.
Contracts: business agreements are very important for corporate brand image. You need to negotiate and clearly state the scope of the contract that both parties have agreed to.
Conclusion
Above are detailed sharing from PSA Solutions about the top 7 most popular and free mobile app-builder today. Hope you will choose for yourself the correct decisions and soon get a satisfactory mobile App.